Our goal is to peak your independence by reducing hospitalization and nursing home stays!
Click here to see our case studies.

Let Us Help
It is our goal to provide an in-home care environment that is as close to "normal" as possible while encouraging progress toward pre-injury abilities.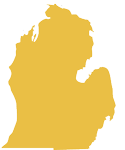 Serving Lower Michigan Peninsula
When you or someone you love has experienced a life changing injury, you can trust us to understand. Transitioning through time, we are capable of meeting the unique needs of those who are newly injured as well as experienced individuals who may be looking for a better approach to home care.
Professional nurses and caregivers offer quality care in your home. Our team has a broad base of experience and specialization. We bring a better approach for well-being through excellence in wound care, catastrophic injury rehabilitation, spine and/or brain injury treatment and trusted methodologies. Each team member participates in on-going education to ensure our patients receive the highest level of care.
Our Services
Spinal Injury
You are not alone. Every year, about 12,000 people sustain a spinal cord injury. That's 30 new injuries every day. Most of these people are injured in auto and sports-related accidents, falls and industrial mishaps. An estimated 60 percent of these individuals are 30 years old or younger. Care Plus TLC is always here to help. Click here for a free consultation.
Brain Injury
You are not alone. More than 1.4 million people suffer traumatic brain injuries (TBI) every year in the United States. Care Plus TLC provides in home care for Lower Peninsula Michigan residents who have experienced Traumatic Brain Injury. Click here for a free consultation.
If you have any questions, please call us: 616-884-5401
Click here for a free in home consultation: Free Consultation