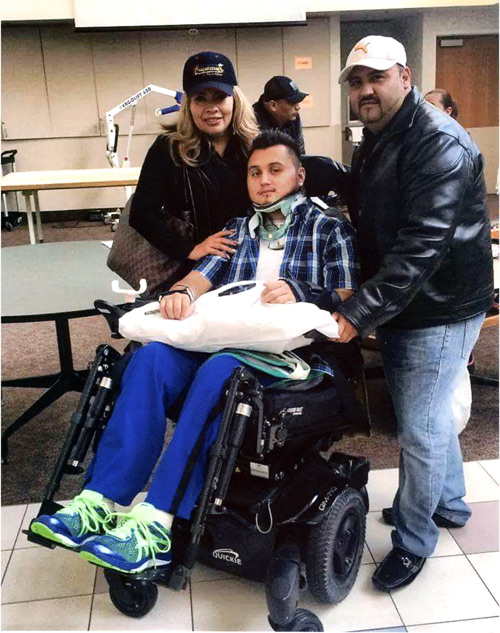 Luis and his Supportive Family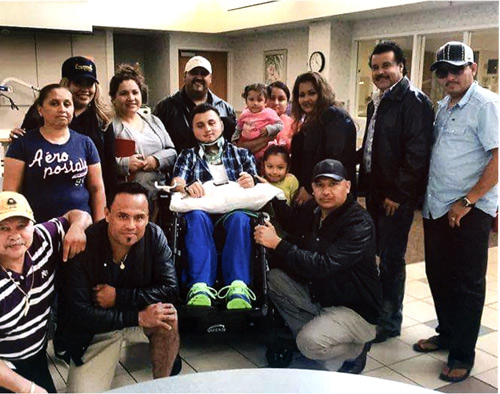 Case Study
Late one night in July of 2014, Luis drove wearily home from work. In an instant his life was changed when he fell asleep at the wheel. The life altering accident left him paralyzed from the neck down.
Following his injury, Luis spent 3 months in the hospital followed by 3 months at Mary Free Bed Rehabilitation hospital. While there he was under the watchful care of Dr. Sam Ho, MD, who has been the medical director of Mary Free Bed's Spinal Cord Injury Program since 1983.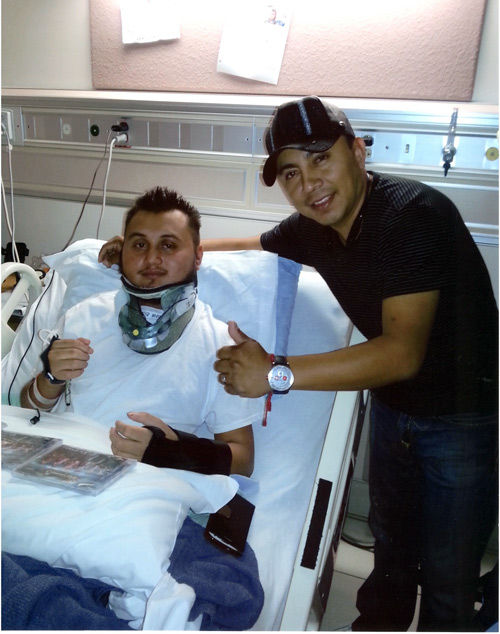 He became Luis's Physical Medicine & Rehabilitation (PM & R) Specialist. Dr. Ho is known throughout the Midwest as "the best of the best" for his expertise in spinal cord injury.
During the days that followed, Luis was struck with several difficult realizations. No matter how great one's attitude is – it is understandable that being a young man, having caregivers around the clock is inherently a difficult adjustment. How was he ever going to adjust to the language barrier between him and his caregivers? He wondered what would happen when he finally went home.
Luis was referred to a home care company several weeks prior to being discharged. First, there was the need to quickly find and hire in home interpreters. Further complicating matters, Luis's injuries required a higher skilled caregiver. Unfortunately his residence is in a rural area where few Certified Nursing Assistant caregivers are available. Just two days prior to being discharged, that company dropped his case.
Receiving Dr. Ho's request, Care Plus TLC immediately understood the urgency of the situation and did not hesitate to accept his case. At once, their team began the process of hiring Certified Nursing Assistants trained in spinal cord injury care. The search also included bi-lingual caregivers and Spanish Interpreters who would be scheduled to work with non-Spanish speaking aides.
Seventy-two hours later when Luis came home, Care Plus TLC introduced him to his caregiving team.
From the beginning, Annaliza Tennant, Registered Nurse (RN), Certified Rehabilitation Registered Nurse (CRRN), and a Certified Brain Injury Specialist (CBIS) for Care Plus TLC has encouraged the in home caregivers to talk to Luis, teaching each other English and Spanish words and phrases. This process has become a "fun interaction" between Luis and his attendant caregivers. This ultimately facilitates a learning environment where Luis is continuously engaging in his treatment program.
Luis loves to listen to music as it helps him maintain a positive attitude and stay motivated. He goes to out-patient Physical and Occupational Therapy three times a week and also does exercises at home, so that he can regain his strength.
When Luis expressed an interest in going swimming again,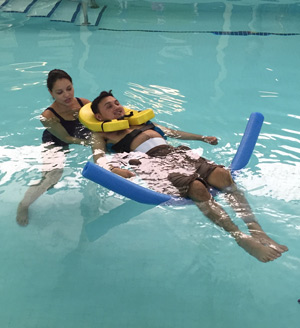 Care Plus TLC worked with his Physical Therapist to arrange his first outpatient aquatic therapy session!
"I keep working every day at getting better, looking forward to the day when I can go back to the woods to hunt and fish, because I know I have my whole life ahead of me." Luis used to go salmon fishing. Understanding how important this is to him, Annaliza, is arranging a meeting with a Spanish speaking mentor, who frequently goes Salmon fishing.
At the age of 22, Luis is preparing for his future. He is determined to complete the GED program offered through Hart Hispanic Community Center. He has recently begun utilizing an online Learning English application for two hours every evening. He continues to embrace life and recognizes that there are many opportunities for his future. Perhaps one day, he may even become an interpreter for someone else who has been injured.
There are many great opportunities, activities and wonderful programs, which our experienced nurses are introducing to Luis and his family. For Example: Mary Free Bed has a Wheelchair and Adaptive Sports Program and a nonprofit scuba program. Dive Pirates also teaches quadriplegics how to Scuba Dive. Their organization specializes in non-profit, fully funded scuba trips for paraplegics and quadriplegics to exotic locations like the Cayman Islands. Luis hopes to be ready to go on one of their excursions by 2017.
"I'm thankful to the Insurance Company that is taking care of the medical expenses allowing me to have around the clock care, interpreters, ramp, motorized wheel chair, hospital bed and medical equipment and supplies. I am able to survive because of the Michigan No-Fault Law."
"I have met wonderful and supportive people in this journey. I know I have my whole life ahead of me!"