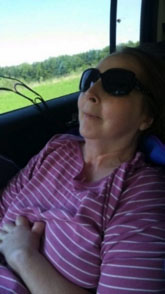 Case Study
Patty suffered a Complete Spinal Cord Injury 34 years ago. She has been in and out of nursing homes for many years. When we met her, she had been completely bed bound for 14 years. Patty longed to go for a car ride. She wanted to see how things had changed over the years. Her view of the "outside world" – was seen from the window beside her bed.
Care Plus TLC began working with Patty's multi-disciplinary team to design a custom "In-Home Rehabilitation" Plan of Care. Our 24/7 LPN caregivers diligently focused on establishing, performing, and reaching achievable mobility goals over the course of the next 12 months.
One day the time arrived. No one was more excited than Patty! During the next 3 hours, she saw most of Montcalm County! The joyful ride ended with her request to go to Dairy Queen for dinner and ice cream. Since that day, Patty has been grocery shopping, made trips to Walmart and spends more time with her grandchildren.
Care Plus TLC is pleased to report that following years of long stays in nursing homes – Patty has remained at home for 500 days and counting!